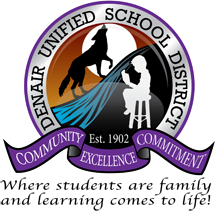 Businesses and organizations are dynamic places that experience seasons of change. Denair Unified School District is no exception. Below are some the confirmed key changes occurring across our District.
Denair High School
Administration: We have recently learned that Principal Alecia Myers will be leaving our District and will not return to DHS this year. We thank Ms. Myers for her service and wish her well.
Interim Principal Joe Galindo will continue to fill in at the high school, teaming up with our talented faculty and staff to ensure that the school year ends smoothly and successfully.
Principal interviews will be held Monday, May 9th.
Teachers: We are currently recruiting for three teacher positions at DHS in the areas of Science, English and Mathematics.
Leaving DHS at the end of this school year are Breanna Vaughn (science) and Carrie Coldicutt (English). We thank both individuals for their terrific service and wish them well in their future endeavors. The talented Cristina Rojas (mathematics) will transfer to Denair Charter Academy next year where she will work full time.
Sandra Cisneros will move from DECA to DHS to teach Spanish. Ms. Cisneros will fill the vacancy of Maria Olivas who next year will serve as DUSD's full-time Coordinator of English Language Development/English Learner Instructional Coach
Teacher recruitment and interviews are currently in progress.
Continue reading "Update From DUSD Superintendent Aaron Rosander" »

Top Denair High School Students Awarded $26,000 in Combined Scholarships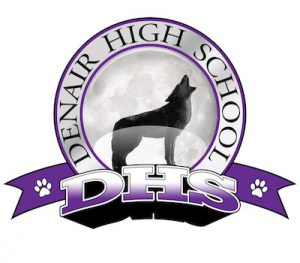 Nearly $26,000 in scholarships were awarded as Denair High School celebrated the academic achievement of its students Thursday night.
Abigail Dirkse received the Jim Booth Memorial Scholarship worth $2,500, the top individual award. She also earned the $1,500 Turlock Chamber of Commerce Ag Scholarship and was awarded $250 from the Stanislaus County Women in Agriculture.
Logen Arndt was recognized as the Class of 2016 valedictorian for his grade-point average of 4.33, best among seniors. David Sweeten and Dirkse (both 4.25 GPA) will be salutatorians at the May 27 graduation ceremony.
About 300 people attended the one-hour ceremony in the Coyote Center at Denair Middle School.
Other scholarships, listed by student:
Continue reading "Top Denair High School Students Awarded $26,000 in Combined Scholarships" »
---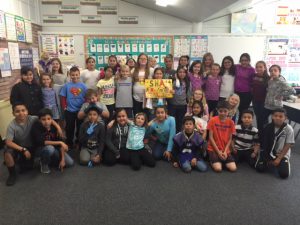 Spanish instructor Donna Williams has been one of the most popular, energetic and inspirational teachers on the Denair Elementary Charter Academy campus for many years. Her enthusiasm for her students – and her subject matter – bubbles through every lesson in each class.
So it should come as no surprise that when Williams returned from Christmas break this year with the idea to begin a Spanish-language service club, her students embraced it with the same excitement Williams brings to her work. That is to say, they loved it.
The Sociedad Hispanica de Amistad, known by the acronym "SHA," is national group affiliated with the American Association of the Teachers of Spanish and Portuguese. Williams attended a national conference for foreign language teachers in December. AATSP leaders were impressed to learn of DECA's commitment to teaching Spanish to every student and offered her a membership on the spot. She, in turn, was delighted to hear about SHA.
Continue reading "Spanish Club Is Natural Extension of DECA's Language Program" »
---
Diplomas Available
Students who completed grade twelve from the 2003-2004 to 2014-2015 school years at Denair Unified School District, and have met all graduation requirements other than passing the CAHSEE, are eligible to receive a diploma. Students are asked to visit their former high school office to request their diploma. Should a former student be unable to pick up the diploma, someone else may do so on the student's behalf with written authorization. Diplomas will be released only after valid photo identification has been provided.
For further questions please call the high school offices
Denair High School - 209–632-9911
Denair Charter Academy - 209–634-0917
---
View more at DenairPulse.com
---
The California Department of Education (CDE) is currently engaged in litigation with two non-profit associations comprised of parents and guardians of children with disabilities. The plaintiffs in that litigation have requested numerous documents, as well as student data collected and stored by CDE, which may include personally identifiable student information.
To comply with the Family Educational Rights and Privacy Act (FERPA), CDE has been ordered, among other things, to inform parents and students of the disclosure of such information. CDE has requested that school districts and SELPAs post the following link to CDE's website: http://www.cde.ca.gov/morganhillcase. The link provides a Notice and Objection Form to allow parents to object, by April 1, 2016, to the disclosure of personally identifiable information related to their children.
Please understand that the district is not a party to the litigation and is not required to disclose any student information, nor does it intend to do so. For more information, please contact CDE directly at (916) 319-0800.
Mailing & Physical address
3460 Lester Road
Denair, CA 95316
Phone:
(209) 632-7514
Fax: (209) 632-9194