Sunday, November 1, 2015
---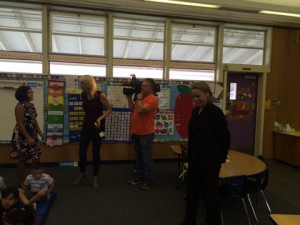 The brand new kindergarten Spanish immersion program at Denair Elementary Charter Academyreceived great exposure Monday morning with a visit from a news crew from Channel 31's "Good Day Sacramento" program.
The excited students from the classrooms of teachers Sandra Cisneros and Nancy Silva sang a song in Spanish and English as reporter Cambi Brown listened and her cameraman broadcast the events live on television.
Brown, who is bilingual, spoke in Spanish and English to the students. She also interviewed DECA Principal Sara Michelena. To watch the fun segment, go to http://gooddaysacramento.cbslocal.com/video/category/spoken-word-good-day/3299824-spanish-immersion/. Different versions of the report also will be featured on Channel 31's noon and 4 p.m. news programs Monday.
[Continue reading at DenairPulse.com]
---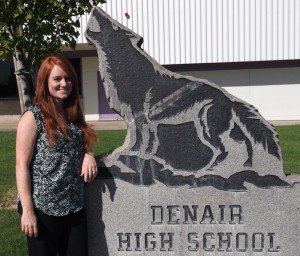 Cherie Gresham really enjoys being around high school students – these "little adults," as she respectfully refers to them. But until she was hired as Denair High's new counselor, she assumed most of her interaction with teens would be confined to the soccer field and her role as a coach.
Even while working for the state Department of Social Services the past few years, Gresham applied for school jobs in Merced, Los Banos and her hometown of Manteca. But most districts have reduced their counseling staffs in the past decade and the few opportunities that came open attracted many experienced applicants.
[Continue reading at DenairPulse.com]
---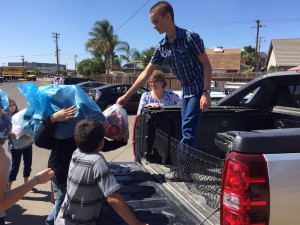 The Denair community as well as students at two campuses contributed in a big way to an impressive relief effort for people affected by the Butte fire in Calaveras and Amador counties.
Water and non-perishable food. Clothing, blankets and bedding. Toiletries, toothpaste and diapers. Toys and games. Pet food. Even 60 to 70 100-pound bales of hay for hungry horses.
It will take a small convoy of trucks, trailers, SUVs and other vehicles to transport it all Friday afternoon to various places in Calaveras County.
Since it began Sept. 9, the Butte fire has burned more than 71,000 acres, destroyed 365 homes and 261 outbuildings, and damaged 26 structures. Friday morning, Cal Fire estimated containment at about 60%.
[Continue reading at DenairPulse.com]
---
---

< Click here for more information >
The Common Core State Standards (CCSS) were developed through a state-led initiative to establish consistent and clear education standards for English language arts and mathematics that would better prepare students for success in college, career, and the competitive global economy. The California State Board of Education (SBE) adopted the standards on August 2, 2010.
---

The Denair Unified School District in cooperation and communication with the home and the community recognizes our children as our future and will provide quality education in a safe environment that renders students competent in basic learning, technical, and social skills and will foster work habits, intrinsic values, and character in students that reflect life-long love for learning.
Belief Statement
We believe that Denair Unified School District, in collaboration with parents and community members, can and will provide support to ensure that every student will come to school, stay in school and do the very best they can.
---

Denair Unified School District
209-632-7514 • Fax 209-632-9194
3460 Lester Road • Denair, CA 95316
---
Nondiscrimination Statement - Denair Unified School District prohibits unlawful discrimination, harassment, intimidation, and bullying of any student based on the student's actual race, color, ancestry, national origin, ethnic group identification, age, religion, marital or parental status, physical or mental disability, sex, sexual orientation, gender, gender identity, or gender expression; the perception of one or more of such characteristics; or association with a person or group with one or more of these actual or perceived characteristics. El Distrito Unificado de Denair prohíbe la discriminación ilegal, el acoso, la intimidación y el acoso de cualquier estudiante en base a la raza del estudiante color, ascendencia, origen nacional, grupo étnico, edad, religión, estado civil o situación de los padres , discapacidad física o mental, el sexo, la orientación sexual, expresión sexual, identidad de género , la percepción de una o más de estas características, o asociación con una persona o grupo con una o más de estas características reales o percibidas.
Click here for more information