Transfer of Territory - Public Hearing
Date: February 17th, 2016

Time: 6:00 p.m.

Place: Denair Middle School (Coyote Center)
---
Kelly Beard's first-graders learned how to code a computer Tuesday afternoon. So did elementary students from four other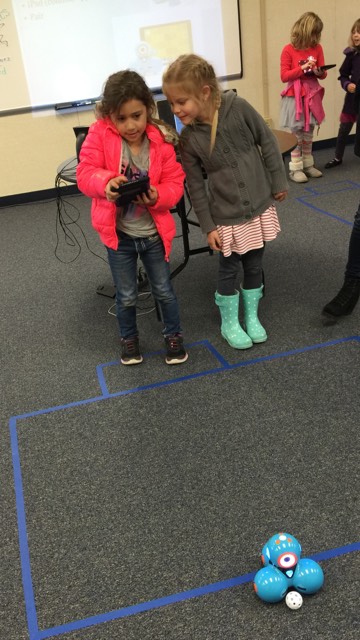 grade levels at Denair Elementary Charter Academy. The children loved every minute of it.

The high-tech program involved iPad Mini's – and small, three-wheeled, one-eyed robots known as "Dash," which are specifically designed to cater to younger students. The children, working in teams of two, used their iPads to move their robots through five different courses taped on the carpet. The calculations required them to work together to or program their Dash to go forward, turn left or right, and even push small plastic golf balls toward a pretend soccer or basketball goals.

Based on the volume of the squeals and laughter, the hour-long lesson was a huge hit.

"The kids are having so much fun," said Beard. "This is a great way to introduce them to coding. There are so many jobs out there today in the tech world that require these skills. They need to understand how this works."
[Continue reading at DenairPulse.com]
---
In the end, the choice was sad but not difficult for Sara Michelena. She cares greatly for her staff and students at Denair Elementary Charter Academy. But she loves her husband and two young daughters, and her family needs her most right now.
So Friday, Michelena told her staff that she will resign at the end of the current school year to become a full-time mother to adopted daughters Emily, 3, and Elizabeth, 2. Emily has a mild form of 22q, a genetic condition that predisposes her medical and emotional issues.
"The biggest motivation is my children. They're getting to be critical ages," Michelena said. "I have a child with special needs and I want to encourage her development. I'm a former kindergarten teacher and they're getting to the age I dealt with."
Michelena has led the elementary campus for two years. Last year, she spent months spearheading the effort to write the charter that blended two independent campuses into DECA.
[Continue reading at DenairPulse.com]
---
Learning a second language is hard. It also can be an important asset for students as they make their way through high school to college and beyond. And whether that second language is Spanish or English, the Denair Unified School District believes a mid-year adjustment will benefit all its students.

When classes resumed Jan. 4, longtime Spanish teacher Maria Olivas took on a newly created role as coordinator of English language development services. She will work with students at all grade levels for whom English is a second language while still teaching two periods at the high school.

Moving to the high school and middle school campuses is Jasmin Perez, who spent the first semester working with younger students across the street at Denair Elementary Charter Academy.

Olivas has worked in the district since 2004. Perez came to Denair this school year after previously teaching at Kimball High in Tracy and in Turlock.
[Continue reading at DenairPulse.com]
---
The Denair Unified School board approved a new math curriculum for elementary students, offered an early notification incentive to teachers and discussed the potential impact of a new state law affecting concealed weapons brought on campus at a busy meeting Thursday night.

Trustees also shortened the Thanksgiving holiday break, meaning staff and students will be in class for two days next November rather than having the entire week off.

The new curriculum at Denair Elementary Charter Academy already is being implemented for about 500 kindergarten through fifth-grade students, said Principal Sara Michelena. Called My Math, it was the clear choice of her staff and recommended by the math consultant at the Stanislaus County Office of Education. It includes an online component in addition to other classroom materials. "We look forward to seeing where this goes," she said.
[Continue reading at DenairPulse.com]
---
The Denair Unified School District will strongly oppose a proposal by a housing developer to redraw the district's boundary to send future students to Turlock schools.
The proposal could cost the Denair district an estimated $1 million in developer fees and about $750,000 in annual state funding based on how many students would live in the new homes, Superintendent Aaron Rosander told the Board of Trustees at Thursday night's meeting.
The boundary initiative is being pushed by Turlock housing developer Ronald Katakis. He wants 90 acres at the northwest corner of Tuolumne and Waring roads to be transferred from the Denair school district to the Turlock Unified School District.
Katakis sent a letter in September to Stanislaus County Superintendent Tom Changnon petitioning for the change. Under the State Education Code, Changnon was required to form a committee to review the plan and recommend for or against it. The 10-person panel of current and former school board members in Stanislaus County will hold hearings Oct. 28 in Denair and Turlock to take public comment.
[Continue reading at DenairPulse.com]
Supporting Documents
Notice and Agenda of meetings in Turlock and Denair
Boundary map showing affect area
Town Hall slides
Transfer of Territory Petition
---
Diplomas Available
Students who completed grade twelve from the 2003-2004 to 2014-2015 school years at Denair Unified School District, and have met all graduation requirements other than passing the CAHSEE, are eligible to receive a diploma. Students are asked to visit their former high school office to request their diploma. Should a former student be unable to pick up the diploma, someone else may do so on the student's behalf with written authorization. Diplomas will be released only after valid photo identification has been provided.
For further questions please call the high school offices
Denair High School - 209–632-9911
Denair Charter Academy - 209–634-0917
---
---
Nondiscrimination Statement - Denair Unified School District prohibits unlawful discrimination, harassment, intimidation, and bullying of any student based on the student's actual race, color, ancestry, national origin, ethnic group identification, age, religion, marital or parental status, physical or mental disability, sex, sexual orientation, gender, gender identity, or gender expression; the perception of one or more of such characteristics; or association with a person or group with one or more of these actual or perceived characteristics.
El Distrito Unificado de Denair prohíbe la discriminación ilegal, el acoso, la intimidación y el acoso de cualquier estudiante en base a la raza del estudiante color, ascendencia, origen nacional, grupo étnico, edad, religión, estado civil o situación de los padres , discapacidad física o mental, el sexo, la orientación sexual, expresión sexual, identidad de género , la percepción de una o más de estas características, o asociación con una persona o grupo con una o más de estas características reales o percibidas.
Click here for more information