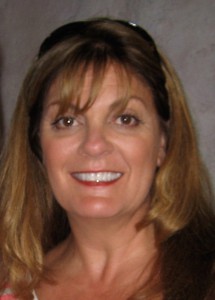 A woman with an impressive educational résumé and a man with deep roots in the community are the newest principals in the Denair Unified School District.
Beginning July 1, Alecia Myers will take over at Denair High School and Travis Manley will lead Denair Charter Academy. The district's board of trustees formally approved their appointments last week.
"I'm very excited. Our district is vibrant and continues to be on a positive trajectory, and these two educators are representative of that," said Superintendent Aaron Rosander. "We've been able to add experience along with a lot of energy. It's a nice mix."
Myers comes to Denair from the Milpitas Unified School District in Santa Clara County, where she most recently was director of secondary education overseeing two high schools and two middle schools. Before that, she was principal at Calaveras Hills High School, an alternative campus, as well as assistant principal at Milpitas High. Prior to that, she worked in a San Jose school district.
For the past 16 months, she has been commuting to the Bay Area from her home in central Modesto. In two weeks, those 3 a.m. wake-up calls will be a thing of the past.
[Read more at DenairPulse.com]
Longtime community members as well as many veteran teachers are familiar with Manley, who graduated from Denair High in 2002. Among other things, he is fondly remembered for the last-second half-court shot he made to propel the Coyotes basketball team past St. Vincent of Petaluma 65-64 and into the Sac-Joaquin Section Division V championship in Sacramento. Denair lost to Eastside Prep of Palo Alto in the finals, but Manley's athletic legacy was cemented.
"It's folklore here. It's great to listen to," said Rosander. "… He's home grown. He's a Denarian."
Manley graduated from CSU Stanislaus in 2006 with a double major in political science and communications, and then earned his teaching credential two years later from Chapman College. Since 2008, he's been a sixth-grade teacher at Wakefield Elementary School in Turlock. He also has taught classes in early childhood education for the Offices of Education in Stanislaus and San Joaquin counties, and currently serves as summer school principal at Crowell Elementary in Turlock.
He calls himself "an education junkie" who relishes learning and applying new ideas. He is excited about the opportunity to lead DCA, which provides home-schooling opportunities and independent study plans to nearly 300 K-12 students.
[Read more at DenairPulse.com]
---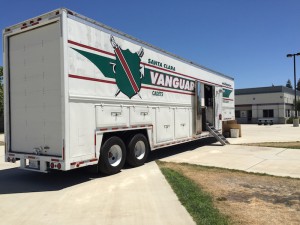 Class may be out for the summer, but the staccato beat of drums, the blare of horns and an array of colorful flags are filling the air around two Denair campuses this week.
The Vanguard Cadets Drum and Bugle Corps from Santa Clara once again are using the grassy fields and other facilities in Denair to prepare for the summer competition season. It is the sixth consecutive year the 150-member organization has held a weeklong camp at the adjoining high school and middle school sites.
"The relationship between Denair and Vanguard has been positive and has generated interest to the degree that folks will stop by to watch and inquire," said Aaron Rosander, superintendent of the Denair Unified School District.
Two years ago, the camp provided a springboard to the Drum Corps International Open Class Championship, which the Bay Area group won for the second time.
"The Vanguard Cadets are honored to once again spend time here in Denair. We have always been treated so wonderfully and want to give much thanks to the district office personnel and school administration," said Steve Barnhill, the corps' director.
[Read more at DenairPulse.com]
---
A barren piece of ground and an empty wall have been transformed into an abundant garden and beautiful mural by an eclectic group of Denair students known as "The Green Team."
First-year Denair Charter Academy teacher Gynae Jerner gets credit for the concept, which involved dozens of elementary and high school students. An avid gardener, Jerner envisioned it as a way for older students to mentor their younger peers while bringing to life classroom concepts involving science, hard work, responsibility and collaboration. She pitched the idea to leadership team at three campuses last year and the project took off from there.
Kindergarteners through fifth-graders from Denair Elementary School and the Denair Academic Avenues charter school "adopted" one of the 10 plots in their campus' garden, which sits next to some portable buildings west of the cafeteria. They were paired with about two dozen Denair High School volunteers who were assigned to specific classrooms to uniquely design each space.
[Read more at DenairPulse.com]
---
Continued growth in elementary enrollment and a $1 million infusion of extra state money are the key reasons behind the ongoing financial improvement in the Denair Unified School District.
Trustees listened to a presentation and heard public comment about the proposed $11.9 million budget for 2015-16 at their meeting Thursday night, a decrease of $270,000 from the previous year attributed to staffing reductions. Board members will take a final vote at their June 25 meeting.
The best news concerned the number of elementary students. Projections show 481 youngsters in kindergarten through fifth grade at the new Denair Elementary Charter Academy and traditional Denair Elementary School. That's an increase from 468 in 2014-15.
The growth at the elementary level partially offsets further decline at Denair High School, where enrollment is projected to be 300 in 2015-16 – 36 students less than the year before.
Across the entire district, enrollment is projected to be 1,220, 35 students less than 2014-15.
"Our goal is to grow enrollment (at the lower grades) and push it to the middle school and high school," Superintendent Aaron Rosander explained.
[Read more at DenairPulse.com]
---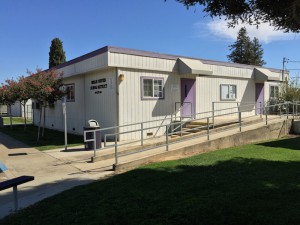 A state law that restricts the use of portable school buildings will require the Denair Unified School District to move its administrative offices into three spare classrooms.
The offices of the superintendent and his staff and the chief business officer and her staff currently are in two relocatable buildings on Lester Road adjacent to the elementary campus and across the street from Denair Middle School. The oldest building was installed in 1980 and the other in 2001.
But a state law that went into effect in September 2006 says that any portable buildings in which teachers or students spend even a short amount of time cannot be used as school facilities after Sept. 30, 2015.
District officials intend to modify three adjoining elementary classrooms. Partitions dividing the rooms will be removed and new offices created for Superintendent Aaron Rosander, Chief Business Officer Linda Covello, Senior Director of Student Support Services Michelle Bush and their administrative staffs.
[Read more at DenairPulse.com]
---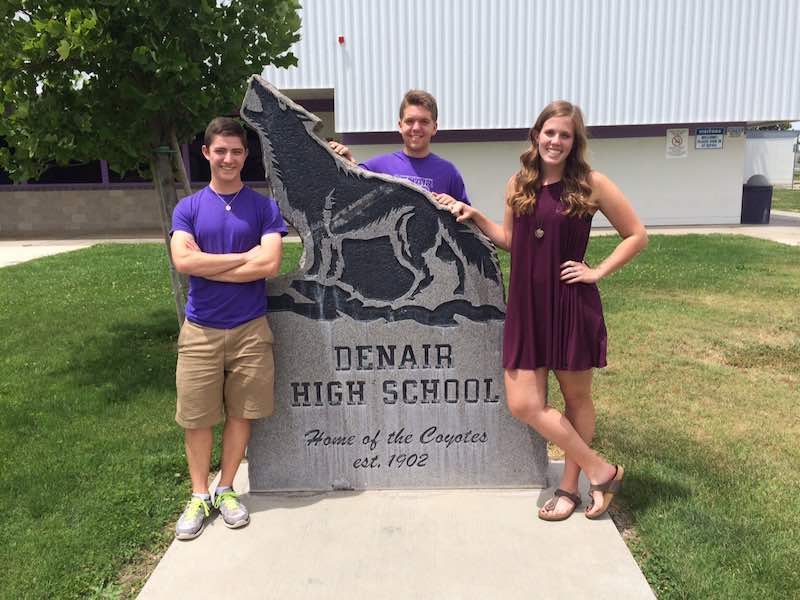 The Denair High School Class of 2015 will be honored May 29 at a graduation celebration. The event begins at 7:30 p.m. at Jack Lytton Stadium. Gates open at 6 p.m. Tickets are not required.
Anna Dirkse, Brian Dudley and Andrew Knapp will be the valedictorians. All three accumulated a 4.3 grade-point average in their four years at Denair – the highest in their class. Anna, Brian and Andrew recently took time to answer 10 questions about their high school experiences.
Question: What are the key things other students should know about your academic success and how you achieved it?
Anna: Some of the keys to my success have been my parents and my teachers. Both have pushed me to do my best and helped me to succeed.
Brian: My parents really pushed me to get A's in my classes. Another thing that helped me go for the better grades was to get higher grades than my brother did throughout high school.
Andrew: All I did was do what was asked of me. From there, I gained an interest in what I did through my teachers. Everything else simply fell into place.
[Read more at DenairPulse.com]
---

< Click here for more information >
The Common Core State Standards (CCSS) were developed through a state-led initiative to establish consistent and clear education standards for English language arts and mathematics that would better prepare students for success in college, career, and the competitive global economy. The California State Board of Education (SBE) adopted the standards on August 2, 2010.
---

ParentCONNECT
Parents now have the ability to view their child's school information over the Internet. Currently, ParentCONNECT is offered to parents with children attending Denair High School. ParentCONNECT will be available district-wide at the beginning of the 2012-13 school year. Visit the ParentCONNECT page.
---

The Denair Unified School District in cooperation and communication with the home and the community recognizes our children as our future and will provide quality education in a safe environment that renders students competent in basic learning, technical, and social skills and will foster work habits, intrinsic values, and character in students that reflect life-long love for learning.
Belief Statement
We believe that Denair Unified School District, in collaboration with parents and community members, can and will provide support to ensure that every student will come to school, stay in school and do the very best they can.
---

Denair Unified School District
209-632-7514 • Fax 209-632-9194
3460 Lester Road • Denair, CA 95316
---
Nondiscrimination Statement - Denair Unified School District prohibits unlawful discrimination, harassment, intimidation, and bullying of any student based on the student's actual race, color, ancestry, national origin, ethnic group identification, age, religion, marital or parental status, physical or mental disability, sex, sexual orientation, gender, gender identity, or gender expression; the perception of one or more of such characteristics; or association with a person or group with one or more of these actual or perceived characteristics. El Distrito Unificado de Denair prohíbe la discriminación ilegal, el acoso, la intimidación y el acoso de cualquier estudiante en base a la raza del estudiante color, ascendencia, origen nacional, grupo étnico, edad, religión, estado civil o situación de los padres , discapacidad física o mental, el sexo, la orientación sexual, expresión sexual, identidad de género , la percepción de una o más de estas características, o asociación con una persona o grupo con una o más de estas características reales o percibidas.
Click here for more information
Mailing & Physical address
3460 Lester Road
Denair, CA 95316
Phone:
(209) 632-7514
Fax: (209) 632-9194