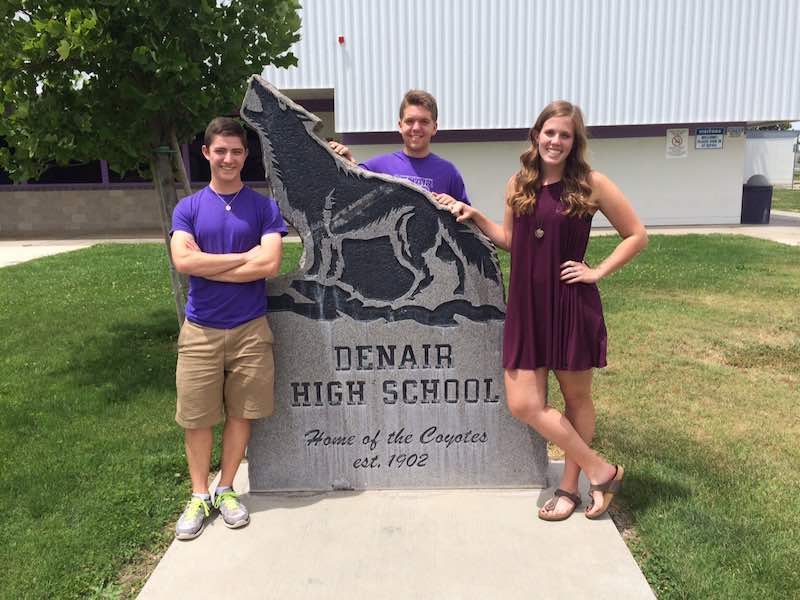 The Denair High School Class of 2015 will be honored May 29 at a graduation celebration. The event begins at 7:30 p.m. at Jack Lytton Stadium. Gates open at 6 p.m. Tickets are not required.
Anna Dirkse, Brian Dudley and Andrew Knapp will be the valedictorians. All three accumulated a 4.3 grade-point average in their four years at Denair – the highest in their class. Anna, Brian and Andrew recently took time to answer 10 questions about their high school experiences.
Question: What are the key things other students should know about your academic success and how you achieved it?
Anna: Some of the keys to my success have been my parents and my teachers. Both have pushed me to do my best and helped me to succeed.
Brian: My parents really pushed me to get A's in my classes. Another thing that helped me go for the better grades was to get higher grades than my brother did throughout high school.
Andrew: All I did was do what was asked of me. From there, I gained an interest in what I did through my teachers. Everything else simply fell into place.
[Read more at DenairPulse.com]
---
No teachers are losing their jobs, but four instructors will have reduced class schedules in 2015-16 because of projected enrollment declines at Denair High School.
There are 305 students currently at the high school, but only 270 are expected on campus for the first day of the 2015-16 school year when it begins Aug. 12. That disappointing trend required Denair Unified School District trustees to vote unanimously Thursday night to pare back the number of classes offered. If enrollment picks up, some of the teaching hours and classes could be restored.
Superintendent Aaron Rosander stated, "While it's unfortunate to layoff even partial teaching positions, this reduction is necessary due to a downtick in enrollment at the high school. Having said this, the overall enrollment trend for the District is beginning to show improvement. This should ultimately have a positive effect on Denair High School in future years".
The district needed to reduce teaching hours by the equivalent of two full-time positions, or 12 classes, trustees were told. The resignation of a part-time Spanish teacher provided one period. The teaching loads of four other teachers were reduced by one, two or three periods each to make up the balance.
[Read more at DenairPulse.com]
---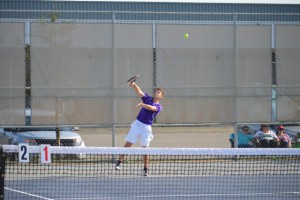 Denair's Brian Dudley won the boys singles championship and was named the Southern League's Most Valuable Player at the recent tennis tournament. Andrew Knapp and Abi Wilson brought the Coyotes a second title with their victory in mixed doubles.
Dudley, a senior, defeated Jake Van Vuren of Ripon Christian 6-2, 6-1 at the Merced College courts to extend his unbeaten record to 18-0 this season. He will be the Southern League's top seed when the Sac-Joaquin Section individual tournament begins Thursday at Oak Park in Stockton.
Knapp, a senior, and Wilson, a sophomore, knocked off a team from Delhi to win their championship. The tournament was the first time this season the Denair duo had played mixed doubles this year. That came about after both suffered their first losses of the season in the semifinals of the singles tournament.
[Read more at DenairPulse.com]
---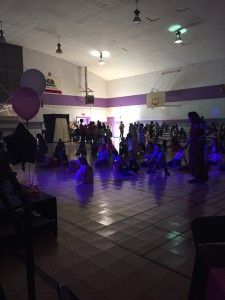 Even three days later, students, their families and staff members were buzzing about how much fun they had at Denair Elementary School's first-ever dance event. Featuring "An Evening in Paris" theme, the May 1 event attracted more than 400 people to the school's gym for three hours of Gaelic-inspired gaiety.
Many of the young boys donned nice shirts and ties, and the girls wore pretty pastel dresses. Their parents and older siblings also wore attire that would have been fashionable on the Champs de Elysees or at a restaurant overlooking the Seine River.
The gym was festively decorated with colored lights and small tables with miniature Eiffel Towers, transforming it into a faux Parisian nightclub.
The theme was chosen by the parents' clubs that spearheaded and organized the dance, said Principal Sara Michelena.
"It was super cute and totally age appropriate," she said, giving special thanks to parents Mary Prine, Kalee Lopes and Troy and Debbie Edwards for their hard work in making the night come to life.
[Read more at DenairPulse.com]
---
Denair High School continues to perform well above the state and county averages in graduating its students, according to CA Graduation Statistics by the California Department of Education.
In 2014, 74 of 79 seniors graduated from Denair High, a rate of 93.7%. That compares to a statewide average of 80.4% and a Stanislaus County graduation rate of 82%.
"Student graduation rates reflect the dedication of our community and schools to the education and success of our students. No child left behind is not a platitude or vacant slogan at Denair schools but, rather, a practice and commitment to our students," said Aaron Rosander, superintendent of the Denair Unified School District.
Denair has long been one of the high-achieving high schools in the county when measured by graduation rates and student performance. The rate was 98.7% (75 of 76) in 2013, 98.8% (84 of 85) in 2012 and 100% (74 of 74) in 2011.
[Read more at DenairPulse.com]
---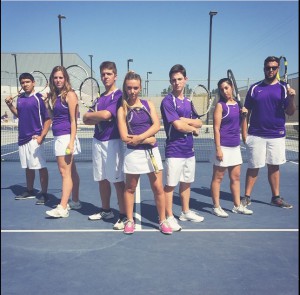 Bill Weber's goal was to teach Denair High School tennis players enough about the game so they could compete for a Southern League championship this season. A little education about classic rock bands from the '70s was a bonus.
Mission accomplished on both ends.
The Coyotes (12-3) battled for the top spot in the SL all spring before finishing second behind Ripon Christian High School (13-2) – a squad whose only two defeats came to Denair. The only things separating Denair from at least a piece of the league championship were two losses to Delhi, which finished third.
Weber is a longtime coach with a lengthy record of success at many levels. This is his first season at Denair and he said he especially enjoyed watching his players – some with limited competitive experience in tennis – blossom along the way.
His goal is to make the sport fun. To that end, he often incorporates music from his own high school days – the 1970s – into practices. This spring, the Coyotes were exposed to rock anthems from power bands like Boston, Kansas, REO Speedwagon and Queen.
[Read more at DenairPulse.com]
---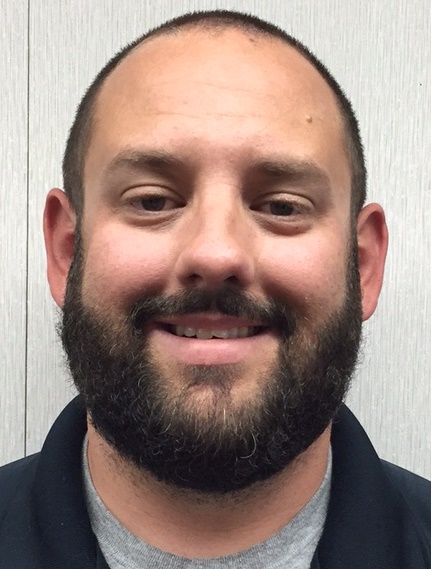 A familiar face will be pacing the sideline this fall at Denair High School. Anthony Armas, who once played for the Coyotes and later was an assistant coach, has been hired as Denair's new varsity football coach.
Armas, 35, is a former lineman who graduated from Denair in 1997. He spent five years as a varsity assistant in Denair after earning his degree fromCalifornia State University, Stanislaus and has been an assistant coach at Pitman High School in Turlock since 2008. He also has been involved with the Denair Youth Football League. This will be Armas' first head coaching job at the high school level.
"I'm a little nervous, but I think that will calm down once we get started," he said with a chuckle. "It's very exciting to be coming back to Denair."
Armas replaces Ted Howze, who guided the Coyotes to a 3-7 record last fall in his only season as head coach. Howze resigned earlier this spring because he is moving to Stockton with his fiancée.
Armas was one of four men interviewed for the position – two from Stanislaus County and two from outside the region, said Athletic Director Darrin Allen. He said Armas' "passion for the game" and "maturity" impressed the selection committee.
"I just like the way he interacts with kids. How he talks to them and he gets them to develop on the field," said Allen, who coached Armas as a player and later worked alongside him as a varsity assistant.
[Read more at DenairPulse.com]
---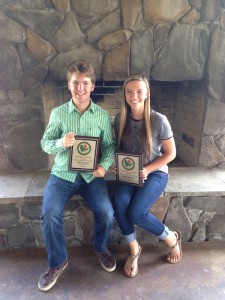 Two of Denair High School's top students were honored this week by the Southern League for their academic and athletic accomplishments.
Andrew Knapp and Kaelee Martinez have excelled in the classroom and as four-year members of the Coyotes' sports teams, and have been actively involved with various school clubs and volunteering in the community.
Knapp carries a 4.34 grade-point average, ranking him first in Denair's 82-member senior class. He led the Academic Decathlon team to a third-place finish in the Stanislaus County competition earlier this year, scoring the most points in school history. He also has played varsity tennis and soccer all four years, is a member of the county Leadership Academy, the high school Drama Club, is president of Denair Matters, volunteers at the We Care Men's Shelter in Turlock and plays guitar at his church.
"I can say without hesitation that he is one of the finest students it has ever been my pleasure to teach," said Paul Michaelis, a former Denair math teacher, Academic Decathlon adviser and tennis coach. "… Whether it is soccer or tennis, Andrew is the type of athlete that every coach wants to have on the team. He works hard to better himself in both the physical and mental sides of sports. He leads his team by example, putting in the extra time and work necessary to be successful."
[Read more at DenairPulse.com}
---

< Click here for more information >
The Common Core State Standards (CCSS) were developed through a state-led initiative to establish consistent and clear education standards for English language arts and mathematics that would better prepare students for success in college, career, and the competitive global economy. The California State Board of Education (SBE) adopted the standards on August 2, 2010.
---

ParentCONNECT
Parents now have the ability to view their child's school information over the Internet. Currently, ParentCONNECT is offered to parents with children attending Denair High School. ParentCONNECT will be available district-wide at the beginning of the 2012-13 school year. Visit the ParentCONNECT page.
---

The Denair Unified School District in cooperation and communication with the home and the community recognizes our children as our future and will provide quality education in a safe environment that renders students competent in basic learning, technical, and social skills and will foster work habits, intrinsic values, and character in students that reflect life-long love for learning.
Belief Statement
We believe that Denair Unified School District, in collaboration with parents and community members, can and will provide support to ensure that every student will come to school, stay in school and do the very best they can.
---

Denair Unified School District
209-632-7514 • Fax 209-632-9194
3460 Lester Road • Denair, CA 95316
---
Nondiscrimination Statement - Denair Unified School District prohibits unlawful discrimination, harassment, intimidation, and bullying of any student based on the student's actual race, color, ancestry, national origin, ethnic group identification, age, religion, marital or parental status, physical or mental disability, sex, sexual orientation, gender, gender identity, or gender expression; the perception of one or more of such characteristics; or association with a person or group with one or more of these actual or perceived characteristics. El Distrito Unificado de Denair prohíbe la discriminación ilegal, el acoso, la intimidación y el acoso de cualquier estudiante en base a la raza del estudiante color, ascendencia, origen nacional, grupo étnico, edad, religión, estado civil o situación de los padres , discapacidad física o mental, el sexo, la orientación sexual, expresión sexual, identidad de género , la percepción de una o más de estas características, o asociación con una persona o grupo con una o más de estas características reales o percibidas.
Click here for more information
Mailing & Physical address
3460 Lester Road
Denair, CA 95316
Phone:
(209) 632-7514
Fax: (209) 632-9194