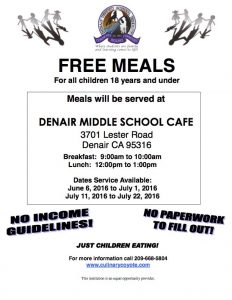 Denair Unified School District is offering free breakfast and lunch for all children, up to age 18. Both meals are served Monday through Friday, June 6, through July 1, 2016 and July 11, through July 22, 2016. Breakfast is served in the Denair Middle School Coyote Center, 3701 Lester Road, Denair, from 9:00 am to 10:00 AM. Lunch is served in the Coyote Center from 12:00 pm to 1:00 pm. For more information call (209) 664-5804 or visit www.culinarycoyote.com.
---
A Denair resident with a diverse and successful education background, an innovative elementary school teacher already in the district and an experienced bilingual instructor from Patterson were announced this week as the three new principals in the Denair Unified School District.
Kara Backman will take over at Denair High School, Kelly Beard will become the new leader at Denair Middle School and Lucy Zamora will take the reins at Denair Elementary Charter Academy.
The selections were revealed to teachers and other staff by Superintendent Aaron Rosander, who led a team that interviewed what he called six "outstanding" candidates last week.
Backman emerged as the choice to become the third principal in three years at the high school. She previously has served as principal at University Charter School in Modesto, Summit Charter Academy campuses in Porterville and Ceres, and Vanguard College Preparatory Academy in Empire.
Continue reading "New Principals Announced for Denair High School, Middle School and Elementary Campus" »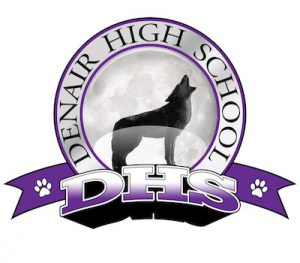 Nearly $26,000 in scholarships were awarded as Denair High School celebrated the academic achievement of its students Thursday night.
Abigail Dirkse received the Jim Booth Memorial Scholarship worth $2,500, the top individual award. She also earned the $1,500 Turlock Chamber of Commerce Ag Scholarship and was awarded $250 from the Stanislaus County Women in Agriculture.
Logen Arndt was recognized as the Class of 2016 valedictorian for his grade-point average of 4.33, best among seniors. David Sweeten and Dirkse (both 4.25 GPA) will be salutatorians at the May 27 graduation ceremony.
About 300 people attended the one-hour ceremony in the Coyote Center at Denair Middle School.
Other scholarships, listed by student:
Continue reading "Top Denair High School Students Awarded $26,000 in Combined Scholarships" »
---
Diplomas Available
Students who completed grade twelve from the 2003-2004 to 2014-2015 school years at Denair Unified School District, and have met all graduation requirements other than passing the CAHSEE, are eligible to receive a diploma. Students are asked to visit their former high school office to request their diploma. Should a former student be unable to pick up the diploma, someone else may do so on the student's behalf with written authorization. Diplomas will be released only after valid photo identification has been provided.
For further questions please call the high school offices
Denair High School - 209–632-9911
Denair Charter Academy - 209–634-0917
---
View more at DenairPulse.com
---
The California Department of Education (CDE) is currently engaged in litigation with two non-profit associations comprised of parents and guardians of children with disabilities. The plaintiffs in that litigation have requested numerous documents, as well as student data collected and stored by CDE, which may include personally identifiable student information.
To comply with the Family Educational Rights and Privacy Act (FERPA), CDE has been ordered, among other things, to inform parents and students of the disclosure of such information. CDE has requested that school districts and SELPAs post the following link to CDE's website: http://www.cde.ca.gov/morganhillcase. The link provides a Notice and Objection Form to allow parents to object, by April 1, 2016, to the disclosure of personally identifiable information related to their children.
Please understand that the district is not a party to the litigation and is not required to disclose any student information, nor does it intend to do so. For more information, please contact CDE directly at (916) 319-0800.