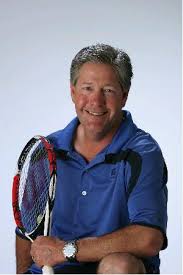 Bill Weber teaches tennis. To children as young as 3 and seniors as old as 88. To players who have never gripped a racquet all the way to tournament competitors. His office can be a city park, a private club or, this spring, the purple courts at Denair High School.
He is a tennis lifer. He's been teaching the sport for 30 years and, at age 57, can't imagine doing anything else.
Recently, he was named the 2014 Independent Teaching Professional of the Year by the U.S. Professional Teaching Association, an international organization with more than 13,000 members. He was singled out as the best in Northern California, a region that stretches from Fresno to the Oregon border.
Weber consistently has earned praise for his innovative teaching techniques, especially with children. He uses a method developed in Europe that uses smaller racquets, a shorter court, lower nets and modified balls to introduce kids to the game. As young players gradually get bigger and stronger, they move to the regular court.
[Read more at DenairPulse.com]
---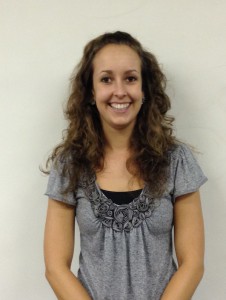 Name: Robyn Hilton
Family: Husband, Tyler Hilton
School: Denair High School
Subject taught: Mathematics, leadership, algebra 2, AP statistics, trigonometry and math 8
Experience and education: Bachelor's degree in mathematics from Fresno State; teaching credential from CSU Stanislaus. Last year, taught middle school math at Whitmore Charter School in Ceres.
What most inspires you about teaching? My students inspire me. I enjoy seeing them everyday and I appreciate their questions and our daily discussions. It is so rewarding when my students understand a key concept and then are able to explain that concept to others. I am passionate about education and mathematics, and when I can witness my students making progress in the subject area I get really excited.
[Read more at DenairPulse.com]
---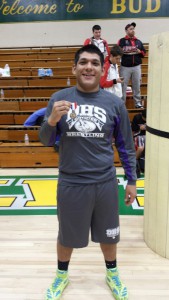 Flashing what his coach described as a "brute strength kind of move," Luis Mendoza got the ultimate payback against a tough wrestling opponent – a pin.
The result was a third-place finish Saturday for the Denair High School senior at the Sac-Joaquin Section Division V Championships and a trip to this week's Masters Meet. It also touched off an enthusiastic celebration by his Coyotes teammates at the Sonora High gym.
Mendoza, competing at 197 pounds, was the only Denair wrestler to survive the rugged two-day tournament. The top four in each weight class advanced to the Masters. The next closest Coyote was Richard Richards, who finished sixth at 140 pounds.
[Read more at DenairPulse.com]
---
First, the good news: The Denair Unified School District has emerged from financial crisis a year ahead of schedule and no longer requires oversight from state-mandated advisers and the Stanislaus County Office of Education.
Next, the less good news: While the number of elementary students continues to grow, enrollment at Denair High School still is trending lower for 2015-16. Unless that changes, it will require the equivalent of two teaching positions be eliminated and a slight reduction in class offerings in the next school year.
Those contrasting reports shared the spotlight at Thursday night's meeting of the DUSD Board of Trustees, where the pride of having successfully navigated through near-bankruptcy was offset by the fiscal challenges that remain and the potential impact on the teaching staff.
[Read more at DenairPulse.com]
---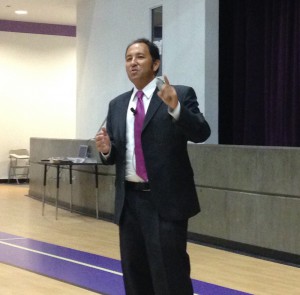 Alex Kajitani's self-described mission is to make math "cool" for his junior high students. To do so, he had to step well outside his own comfort zone. Combatting the glazed looks he saw on too many faces in his classroom meant trying to connect on an entirely different level.
He chose rap music, recognizing that his sixth- and seventh-graders consistently knew the words to new songs within days of their release, yet couldn't remember concepts he'd been teaching for weeks.
Kajitani wrote a song called "The Itty Bitty Dot" to explain decimal points, put it to some music he found on the Internet and enlisted the help of some tech-savvy students at Mission Middle School in Escondido, north of San Diego, to produce the video.
He played the song – featuring Kajitani rapping the refrain, "Line up the dot and give it all you got" – one morning in his class. The students thought it was hilarious. He thought it was a complete flop.
[Read more at DenairPulse.com]
---

A decade before she became a popular first-year science teacher at Denair High School, Breanna Vaughan was a standout goalie on the California State University, Stanislaus women's soccer team just a few miles west on Monte Vista Avenue.
From 2002 to 2005, Vaughan was a force in the net for the Warriors. She was a three-time California Collegiate Athletic Association all-conference choice and still holds four school career records – shutouts (27.5), saves (319), victories (45) and minutes played (nearly 7,300). She has 11 single-season records, including most shutouts (10).
In 2005, she led the Warriors to their first-ever CCAA tournament appearance.
Last weekend, Vaughan's stellar career was recognized again when she became the first women's soccer player to be enshrined in the CSU Stanislaus Athletic Hall of Fame.
[Read more at DenairPulse.com]
---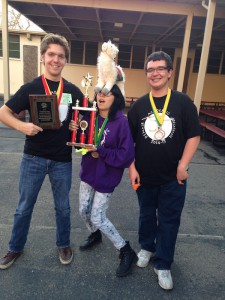 Jennifer Calderon said she didn't feel comfortable as she began the interview portion of the 35th annual Stanislaus County Academic Decathlon on Friday.
You sure couldn't tell from the results.
Calderon was one of three Denair High School students to win gold medals as the Coyotes finished an impressive third overall. Lewis Koehn and Noah Johnson also earned individual championships for Denair, which was the highest-performing small school for the fifth year in a row.
Oakdale and Ceres – schools with many times the enrollment of Denair – finished first and second, respectively, out of 12 high schools.
The event began Friday night with the speech and oral interview competitions at Enochs High School in Modesto. It finished Saturday afternoon when hundreds of the area's brightest students converged on the Modesto High School gym for individual tests in math, language and literature, economics, science, social science, art and music.
[Read more at DenairPulse.com]
---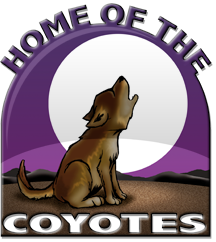 Kindergarten registration begins Tuesday at Denair Elementary School for the 2015-16 school year.
Application forms in English and Spanish can be downloaded from the school's website or can be picked up at the school office at 3773 Madera Ave. Parents and guardians must provide copies of their child's birth certificate and immunization records.
Officials will be on hand from 3-6 p.m. Tuesday to answer questions, offer assistance in filling out the forms and accept completed applications. People also can call the school office at 632-8887 for more information.
Denair offers three options for kindergarten:
Traditional full-day classes for children who will be 5 years old by Sept. 1, 2015.
Dual immersion English and Spanish classes, also for children who will be 5 years old by Sept. 1, 2015.
Transitional kindergarten for children who will turn 5 between Sept. 2 and Dec. 2, 2015.
[Read more at DenairPulse.com]
---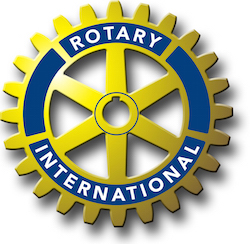 Friday the 13th will be a lucky day for three Denair High School juniors. Edwin Flores, Jordan Sandoval, and Eva Olivas have been selected to attend Rotary Youth Leadership Award (RYLA) camp at Camp Oakhurst for Eva and Calvin Crest for Edwin and Jordan. The camps begin on Friday, February 13 and conclude on Monday, February 16. Students selected for their leadership skills from throughout the Central Valley have been invited to attend this leadership camp where they will provide the music, events, a newspaper, nightly campfires, and run the camp. The camp features speakers who are motivational speakers, business leaders, and government leaders.
[Read more at DenairPulse.com]
---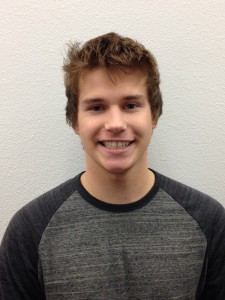 Denair High School's Kenneth Carder is the only member of this senior class who has earned his FFA State Degree. This ambitious student, who has been a member of Denair FFA since eighth grade, previously earned his Greenhand and Chapter Farmer Degrees.
At the 2012 fair, Kenneth won Yorkshire Breed Champion. He placed first in market class for his pig in his freshman and sophomore year, and for his cow during his sophomore year. He also made it to finals in his junior and sophomore year, for showmanship of his pig.
Kenneth is working this year on his FFA American Degree, which is not awarded until next year. Currently enrolled at Modesto Junior College in an Ag Computer Applications class, Kenneth plans to major in Animal Science and become a veterinarian.
Kenneth demonstrates all three circles of the agriculture education model. He is an excellent student in class, attends monthly FFA meetings, and has carried out a Supervised Agricultural Education Project (SAEP) in swine, each year. Students like Kenneth are great role-models to those looking to be involved in FFA.
[Read more at DenairPulse.com]
---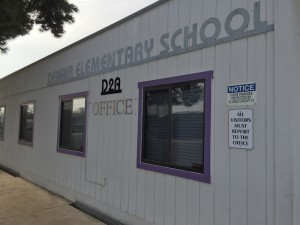 Two elementary campuses will become one at the start of the next school year in Denair, it was announced Thursday night.
Denair Elementary School and the adjacent Denair Academic Avenues will merge to form a new school called Denair Elementary Charter Academy. Together, the two schools today educate 485 kindergarten through fifth-grade students from Denair and surrounding areas.
A new charter will be written that incorporates the best of both campuses, Superintendent Aaron Rosander told Denair Unified School District trustees Thursday night in unveiling the plan. He cited the charter school's Spanish language and fine arts programs and DES's music and traditional academic offerings as strengths that would be retained on a unified campus.
[Read more at DenairPulse]
---

< Click here for more information >
The Common Core State Standards (CCSS) were developed through a state-led initiative to establish consistent and clear education standards for English language arts and mathematics that would better prepare students for success in college, career, and the competitive global economy. The California State Board of Education (SBE) adopted the standards on August 2, 2010.
---

ParentCONNECT
Parents now have the ability to view their child's school information over the Internet. Currently, ParentCONNECT is offered to parents with children attending Denair High School. ParentCONNECT will be available district-wide at the beginning of the 2012-13 school year. Visit the ParentCONNECT page.
---

The Denair Unified School District in cooperation and communication with the home and the community recognizes our children as our future and will provide quality education in a safe environment that renders students competent in basic learning, technical, and social skills and will foster work habits, intrinsic values, and character in students that reflect life-long love for learning.
Belief Statement
We believe that Denair Unified School District, in collaboration with parents and community members, can and will provide support to ensure that every student will come to school, stay in school and do the very best they can.
---

Denair Unified School District
209-632-7514 • Fax 209-632-9194
3460 Lester Road • Denair, CA 95316
---
Nondiscrimination Statement - Denair Unified School District prohibits unlawful discrimination, harassment, intimidation, and bullying of any student based on the student's actual race, color, ancestry, national origin, ethnic group identification, age, religion, marital or parental status, physical or mental disability, sex, sexual orientation, gender, gender identity, or gender expression; the perception of one or more of such characteristics; or association with a person or group with one or more of these actual or perceived characteristics. El Distrito Unificado de Denair prohíbe la discriminación ilegal, el acoso, la intimidación y el acoso de cualquier estudiante en base a la raza del estudiante color, ascendencia, origen nacional, grupo étnico, edad, religión, estado civil o situación de los padres , discapacidad física o mental, el sexo, la orientación sexual, expresión sexual, identidad de género , la percepción de una o más de estas características, o asociación con una persona o grupo con una o más de estas características reales o percibidas.
Click here for more information
Mailing & Physical address
3460 Lester Road
Denair, CA 95316
Phone:
(209) 632-7514
Fax: (209) 632-9194