---
Decades from now, after the legend of this year's Denair High football team has been passed down from one generation to the next, the people who know the story best – the players and their coaches – no doubt will remember this: this special season was possible because each of them believed in the other without reservation. It was a team without apparent ego, everyone willing to sacrifice a little of himself for the greater good.
Saturday night, with purple-clad parents and students and proud alums, gathered to watch on a chilly night at Jack Lytton Stadium, Denair capped a dream season with a dominating 42-14 victory over Santee of Los Angeles for the California Division VII title.
The Denair Coyotes are state champions.
Sunday morning – after maybe four hours of sleep – it still hadn't quite sunk in for Coach Anthony Armas.
"It's pretty awesome," he said. "We always hoped for the best, but I don't think realistically we ever thought this could happen."
The title game against the best team from Southern California followed a familiar script: the Coyotes jumped out to an early lead, used their stable of multi-talented running backs to keep Santee's defense on its heels and its offense off the field, and made enough big plays of their own on defense to ground the Falcons.
Denair (12-1) scored touchdowns six of the nine times it had the ball. It ran out the clock to end each half and turned the ball over just once on a fumble on a field slickened by rain earlier in the day.
That the Coyotes controlled the game minus one of their main offensive weapons – running back Hunter Musgrave, out with a neck injury – reflected the team ethos Armas has preached since practice began July 23.
"Do what we do and do it well. Play fast," is what he told them before the game.
Mission accomplished.
Drew Pritchard – filling in for Musgrave – ran for 123 yards and two TDs, and Steffin Winston added 120 yards and two more scores to lead the Coyotes' offense.
Denair led 28-6 at halftime and never was threatened in the final two quarters, despite facing the nation's leading rusher in Santee's Joseph Todd. He finished with 251 yards on 30 carries, and scored both the Falcons' touchdowns on long runs, but mostly was kept in check by the swarming Denair defense.
The Coyotes played so well that Athletic Director Darrin Allen found himself thinking in the first quarter: "We're going to win this thing." Then he recalled something his father always told him: "Don't celebrate too early. Don't get too excited."
By the fourth quarter, with Denair comfortably ahead and the outcome assured, the excitement and anticipation were amplified. More than 1,000 fans were screaming in Denair's grandstands; others cheered from the warmth of their cars looking through the chain-link fence off Lester Road. "I saw former teachers and alums I had coached," Allen said.
At that point, Allen's biggest concern was making sure he got the state championship trophy – which had arrived earlier in the week – to the postgame ceremony at the middle of the field.
"Honestly, we set everything up and it just became a blur," Allen said. "It was absolutely amazing. We'd asked our crowd to stay off the field and they did. … I thought they'd all come. We did the ceremony and kids and coaches had the trophy. They took pictures. Our kids did the senior tunnel like they always do and they took off to the stands."
It was then that the community celebration – which eventually made its way to the Pizza Factory – truly began.
Armas, a 1997 Denair graduate who took over a program four years ago that previously struggled to win a few games a season, accepted the handshakes and hugs and congratulations. Later, he and his assistant coaches gathered at one of their homes, as they do after every game, to review what happened.
"We hang out and just try to decompress. We talked about the game and season as a whole," Armas said.
What will he remember about this once-in-a-lifetime group of players?
"This team is the definition of special," Armas said. "I always thought we had a special group of kids. The way they work together. They care about each other. We talk about family and that's what they are.
"They have a great work ethic. We can go out and work hard and have fun doing it. It's a big deal. It doesn't get boring. They're just a fun group. They have great personalities and great sense of humor."
By the time he finally got to bed about 1:30 Sunday morning, the magnitude of being state champions had just begun to sink in for Armas.
"I know it means a lot for our community," he said. "I know I had people contact me before the game that I hadn't heard of from a long time. I heard there was a lot of attention on social media."
Leave it to Allen – who grew up in Denair, graduated from the high school in 1985, and has witnessed firsthand all the highs and lows the town has experienced – to provide some perspective.
"During my lifetime, this is the biggest thing to happen to our community and to our school," he said.
In Allen's office, there are pictures of every football team dating back to the '80s. Saturday night, after the last players and coaches and fans had left the stadium, Allen was alone with the state championship trophy in his office. He already had received more than 75 congratulatory texts and emails, but his mind was on everyone who ever had worn a purple Coyotes uniform.
He sat the trophy in front of those old team pictures, then took a new photo that he posted on social media with this caption: "This is for the Coyotes: past, present, and future."
Allen, reflecting Sunday morning, credited this year's players for never allowing any moment to become too big for them – even a state championship game.
"I would say it was their heart and their ability to have the attitude to go out and get the job done. They do their job and don't panic. … They took it to a whole different level last night."
---
Denair Football Team Rolls to Section Division VII Title; Will Host State Championship Game Saturday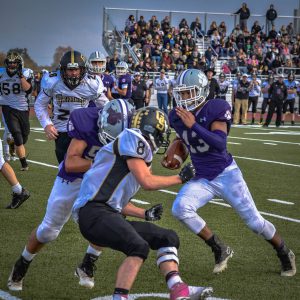 The charmed season of the 2018 Denair High football team becomes more magical each week.
The Coyotes barely had time to process Saturday's 43-21 victory over Golden Sierra for the school's first-ever Sac-Joaquin Section Division VII football championship before they found out Sunday that they were selected to play for a state title this week.
Better yet? Denair gets to play before its adoring home crowd on the familiar turf at Jack Lytton Stadium. The opponent – Los Angeles City champion Santee – faces a six-hour bus ride. Kickoff will be at 6 p.m. Saturday.
Denair Coach Anthony Armas was getting ready to go to school Sunday to meet with Athletic Director Darrin Allen when he learned the Coyotes had earned a spot in the title game. Who told him? His mother, of all people.
"The CIF posted it on Max Preps. She saw it there and texted me," Armas said.
Families all around Denair – still basking in the glow of Saturday's Section championship — had more reason to celebrate.
Armas immediately sent a group text to his players: "Game Saturday, December 1st in Denair at 6pm against Santee from L.A. STATE TITLE GAME!"
Continue Reading at DenairPulse.com
---
It will be a Southern League rematch in the second round of the Sac-Joaquin Section Division VII football playoffs.
Top-seeded Denair (9-1) vs. No. 4 Gustine (6-5), with a spot in the championship game at stake. Kickoff is at 7 p.m. Friday at Jack Lytton Stadium.
The teams know each other well and played Sept. 28 in Gustine. Denair, trailing 14-7 at halftime, ambushed the Reds with six touchdowns in the second half to win 49-14 and ruin Gustine's homecoming.
That victory launched the Coyotes on a five-game winning streak that earned them solo second place in league behind unbeaten Ripon Christian, the coveted No. 1 seed in the playoffs and a first-round bye last week.
Continue Reading at DenairPulse.com
Clubs & Athletics
---
Upcoming Dates and Announcements
January 19th - Winter Formal
May 4th - Prom
May 10th - Disneyland
May 17th - End of the year Slideshow
---
Local News and Media Highlights
Turlock Journal: Life is your journey: Travel drug free
Turlock Journal: Denair defeats Delhi in rivalry matchup
---
---
IMPORTANT INFORMATION FOR SENIORS
---
More about Denair
| | |
| --- | --- |
| Mr. Stavrianoudakis | Initiatives |
| | |
| Ag Spotlight | Community Spotlight |
| | |
| Robyn Hilton | Building Relationships |
| | |
| Community Commitment | Clubs & Athletics |
| | |
---
Unified: A

Day in the life of Alex, Conner and Adrianna
Denair Unified School District and the Denair High School proudly presents our first documentary highlighting three secondary students. As you experience "A Day in the life of Alex, Conner and Adrianna" it is our hope that you become connected to our exquisite community of high achieving learners and relational staff. This one of a kind documentary will be sure to touch your heart, mind and soul.
DHS Office Hours
Mon-Fri
7:30am - 4:00pm
Mailing address
3460 Lester Road
Denair, CA 95316
Physical address:
3431 Lester Road
Denair, CA 95316
Phone:
(209) 632-9911
Fax: (209) 632-8153
---
Principal
Kara Backman
---