Denair Middle School - "Learning Happens Here"
Our Commitments:
We commit to work for the success of all students.
We commit to work collaboratively as a team.
We commit to creating a positive learning environment for ALL students.
---
Please join us on August 15th at 6:00 p.m. in the DMS library for a Parents Supporting Education (PSE) meeting.
---
The first day of school is August 11, 2016.
---
DMS Round Up/Coyote Call
August 4, 2016
8:00 a.m.-1:00 p.m.
Denair Middle School Coyote Center
---
The DMS office will reopen July 28th.
---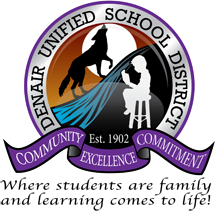 The existing boundaries for the Denair Unified School District will remain intact, a county committee decided Wednesday night to loud applause by staff, students and community members.
The 10-member panel voted unanimously to deny a petition by a Turlock housing developer who sought to move land that has been in the Denair district for decades to the Turlock Unified School District.
The decision has major financial implications for Denair, which stands to collect more than $1 million in developer fees when the homes are built and hundreds of thousands of dollars more in annual state funding based on projected student attendance from children living in them.
"We're ecstatic. It's wonderful news for our community," said Denair Superintendent Aaron Rosander.
There was a strongly pro-Denair sentiment at Wednesday's meeting of the Stanislaus County Committee on School District Reorganization. Nearly 20 people spoke during the hour-long public comment period, all but two of them in favor of keeping 92 acres at the northwest corner of Tuolumne and Waring in the Denair district.
Despite the emotion at Wednesday's meeting and during more than 3½ hours of public testimony in October, the end was anticlimactic. The committee members swiftly rejected developer Ron Katakis' petition without comment, leaving it to attorney Chet Quaide to explain their reasoning.
The State Education Code requires nine conditions be met for territory to be transferred from one district to another. Quaide said the petition failed on three grounds:
[Continue reading at DenairPulse.com]
---
DMS Office Hours
The Denair Middle School office is open Monday - Friday, from 7:30AM - 4:00PM. Please stop by if you have any questions. Please also feel free to contact us at (209) 632-2510.