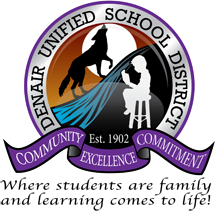 Students at Denair High School and Denair Charter Academysoon will be logging some miles traveling up and down Highway 99 to Fresno and Southern California.
School board trustees approved three upcoming trips at their meeting Thursday night.
The first is April 22-25 when as many as 19 FFA students from Denair High are expected to attend the state FFA convention in Fresno. The conference is one of the high points of the FFA calendar each year, anticipated almost as much as county fairs where animals are shown and projects are judged.
The convention provides leadership training, networking and growth opportunities for students. An estimated 5,000 teens from across the state attend each year. Denair's attendees are selected based on their participation in FFA events, their grade-point averages and the effort they put forth in classes.
Continue reading "Denair Students on the Move – Trips Set This Year to Fresno, Magic Mountain and Disneyland" »
---
DHS and DCA to Use Block Grants to Beef up Programs; DMS Teachers Given More Time to Collaborate
Additional academic assistance, enhanced college preparation and tangible ways to improve study skills among high school and middle school students were approved Thursday night by the Denair Unified School District board.

Trustees voted 5-0 to accept two $75,000 College Readiness Block Grants from the state – one each for Denair High School and Denair Charter Academy.

Board members also unanimously adopted a proposal to immediately add nine additional staff collaboration opportunities at Denair Middle School. The impact will mean shorter days for students every Friday beginning March 3.

The block grants at DHS and DCA are part of $200 million in state funding directed at high schools to better prepare students for college. The goal is to increase the number of students who enroll in traditional or vocational colleges and complete their undergraduate degrees within four years.

Continue reading "DHS and DCA to Use Block Grants to Beef up Programs; DMS Teachers Given More Time to Collaborate" »

---

Hispanic Youth Leadership Council Coming to Denair High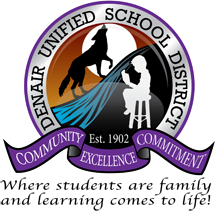 Students at Denair High School will again have a chance to participate on a Hispanic Youth Leadership Council after the club unanimously was approved Thursday night by school district trustees.
There are HYLC groups at more than 25 high schools in Stanislaus County, trustees were told during a presentation by organizer Luis Jimenez. He is the senior outreach executive for the Boy Scouts of America is this region, which shares oversight of the HYLC clubs with the Hispanic Leadership Council.
Denair High once had an HYLC chapter, but interest waned and it was folded. Now, said Spanish teacher Sandra Cisneros, there are plenty of new students. Freshman Christian Obando already has been chosen as president. Cisneros will be the on-campus advisor.
HYLC groups are open to all students, regardless of ethnicity. The goals are to foster leadership, community involvement, higher education and cultural awareness among students, Jimenez said. He said HYLC members in Stanislaus County already have contributed more than 18,000 volunteer hours this school year.
Continue reading Hispanic Youth Leadership Council Coming to Denair High →
---
2016 Denair Football Team's Unshakeable Legacy: Pride and Confidence Restored to Program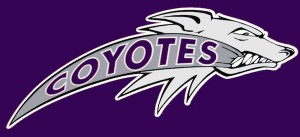 Forget the numbers. It was always about heart and will and determination with this year's Denair High football team. While the doubters and the others fixated on how few players Denair had, the Coyotes focused on what they could control – effort and desire. They practiced hard and played even harder, accomplishing goals few outsiders believed were in reach.
Never mind Friday's 48-12 Sac-Joaquin Section Division VI playoff loss to a more talented Amador team. The 2016 Coyotes will long be remembered as the young men and their coaches who restored pride and confidence in the program.
"These are the guys who jump started our program," said second-year coach Anthony Armas. "I think what we were able to do this year despite our numbers … to get people excited again about the program, that's going to be their legacy."
Denair rarely had more than 14 or 15 players suit up for any game. Frequently, there were more coaches on the sideline than reserves. Because of injuries, the Coyotes even finished a 50-0 blowout over Le Grand with 12 players.
The fact that Denair was winning while facing teams with twice as many or more players was remarkable.
"I think some things didn't go the way we wanted, but the way we overcame the numbers, that was satisfying. Not only for the kids, but the coaches, too. I've never been part of that," said Armas.
The Coyotes finished the year 6-5. But that doesn't tell the whole story. The program had won only eight games in the past four seasons combined. Denair wasn't given much of a chance in the Southern League, but ended up tying for third place, shut out three league opponents and earned a playoff berth only it saw coming.
Armas said he sensed something magical might be happening when his players forced seven turnovers and beat Ripon Christian 32-0 on the road on Oct. 7.
"It was like, 'Holy Cow,' " he said. "Everybody got psyched."
Continue reading "2016 Denair Football Team's Unshakeable Legacy: Pride and Confidence Restored to Program" »
---
DCA Wood Shop Students Building More Than Projects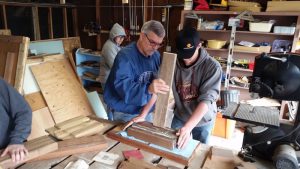 It doesn't matter that most of Barry Cole's wood shop students came to his class this fall not knowing the difference between a band saw and a table saw or had never operated a router or drill press before. Cole's patient instruction and infectious enthusiasm soon removed any doubt.
The brand new cutting boards, footstools and even a dog house made of pine and oak and poplar are testament to the curiosity and ingenuity of Cole's Denair Charter Academy students. They bring him a picture of a potential project and he shows them how to make it. Along the way, the teens build more than a simple pencil holder. They gain confidence.
"This is about envisioning a project and developing the skills to complete it. It's a feeling of accomplishment," explained Cole. "It's always a different kid, several times a day."
Cole is a longtime teacher in the Denair district who moved to DCA's independent study program last year. He coordinates the science curriculum across many grade levels, and also teaches a landscaping class in addition to his woodworking elective.
Cole's grandfather was a carpenter, specializing in garage doors. As a young boy, Cole followed his grandfather around, learning the proper use of tools and enjoying the satisfaction of completing a project.
"I love the smell of the wood and I love making things, especially from repurposed wood," he said.
It didn't take much for Cole to convince first-year DCA Principal Brian LaFountain that a wood shop class would be a fun addition to campus.
"We started with 10 kids in one class on Monday and now we have 20 or so. We had to add another class on Thursdays," LaFountain said.
Continue Reading DCA Wood Shop Students Building More Than Projects →
---
Denair Cross Country Runners Medal at Section Meet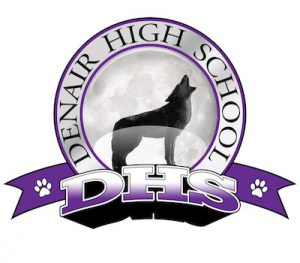 It's fair to say that not only did the runners on the first-ever Denair High School cross country team make some impressive strides this year, so did the program itself.
The Coyotes' successful debut in the sport was capped off Saturday when two runners — Danielle Tigner (frosh/soph girls) and Seth Martinez (sophomore boys) – earned medals at the Sac-Joaquin Section Meet in Folsom.
Running a 3,300-meter course on grass and gravel at the Willow Creek Reservoir, Tigner finished in 20 minutes, 38.9 seconds – good enough for sixth place.
Martinez, competing on the same course, was timed in 15:51.8. He was 11th overall, but received a medal as one of the top eight runners not on one of the top teams.
Coach Matthew Groom said he couldn't be prouder of his two runners or their teammates.
"Both runners worked hard over the season," he said. "They were able to run faster and better than they did when the season started. Tigner has had some distance-running experience. She has ran 5K's before this year. Martinez has never had any distance-running experience. He did well this year, despite that fact.
"With this year being the first Denair has had cross country, and my first year as a coach in the sport, we all learned a lot about the organization and the sport itself. We will take the lessons we have learned over the season and improve our team next year.
"I was pleased that not only did we have runners who qualified for Sections, but they both medaled. I think with the experience that all our runners had, we will be able to qualify more runners next year."
---
Justin Steeley Named Southern League Football Co-MVP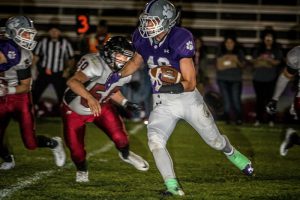 Justin Steeley, the heart and soul of a determined Denair High football team that succeeded despite limited numbers, was selected as the co-Most Valuable Player of the Southern League in voting by the league's coaches.
Also honored were Joe Brasil, chosen as lineman of the year for his play on offense and defense, as well as defensive back Brendan Curnow.
Steeley is a senior who excelled at running back and linebacker. He scored 17 touchdowns and was the emotional leader all season for the Coyotes (6-5), who reached the Division VI playoffs before losing to eventual Sac-Joaquin Section champion Amador. For much of the season, Denair had no more than 15 players on its varsity roster.
Steeley shared the league's top honor with Toby Silva, a wide receiver and defensive lineman for league champion Orestimba.
Continue Reading Justin Steeley Named Southern League Football Co-MVP →
---
Denair Charter Academy Hourly Teaches Receive Pay Increases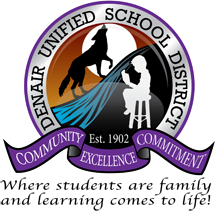 Another piece of the salary restoration puzzle was put into place by Denair Unified School District on Thursday night when they unanimously approved 2.2% pay increases for 13 teachers at Denair Charter Academy.
The instructors at the campus serve home-school students and parents in grades kindergarten through eighth as well as teens enrolled in the independent study high school program.
Unlike teachers at the district's other campuses, they are paid hourly and are not covered by a union contract. When the district faced financial crisis in 2013, their pay was reduced 3.5%. Thursday's board action restores their wage in the same proportion as already has occurred this year for union-covered teachers, as well as non-teaching classified staff and administrators.
Also on Thursday, the board:
Elected Trustee Kathi Dunham-Filson as board president for 2017 and Trustee Ray Prock Jr. as clerk.
Approved the addition of two new courses at DCA: the history of Mexico and introduction to culinary arts. Matthew Groom will teach the first course; Barry Cole will lead the second.
Heard a report from Lucy Zamora, principal at Denair Elementary Charter Academy, and four of her instructors who recently attended a conference on dual immersion language programs in New Mexico.
Cheered as Denair High School Principal Kara Backman reported that more than $30,000 was raised for the campus' FFA programs and students from the first-ever tractor pull in November. More than 1,100 people attended the event at Jack Lytton Stadium.
Heard a presentation from Mike Curry of Johnson Farms, asking the district to join other public agencies and residents in opposing the State Water Resources Control Board's plan to increase flows in the Tuolumne, Stanislaus and Merced rivers.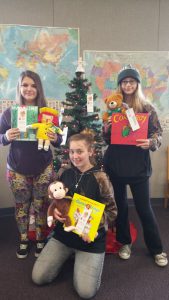 ---
DHS Library Club Hosts Angel Tree
The DHS Library Club is partnering with the Salvation Army and hosting an Angel Tree this year. You may come to the DHS Library and pick a tag from the tree. The child's gender and age are listed on the tags. Buy age appropriate gift(s) and return the unwrappedgift and tag to the DHS Library. Gifts will be distributed to families that have signed up under the Community Food Basket Program with the Salvation Army.
If you aren't able to come to the library to pick a tag, please buy your gift, and when it is returned, we can add the age appropriate tag. Please return gifts by December 14th 3:30 p.m., to the DHS office. If you have questions, please contact Ms. Schell at 632-9911 ext. 4259, W-F or 632-2510, ext. 3210-M & T.
The DHS Library Club thanks you for your kindness and support!
---
Rep. Jeff Denham Honors Denair High Senior Alexis Brantley
Denair High School senior Alexis Brantley recently received a prestigious honor from Congressman Jeff Denham. Brantley was one of several students in Denham's 10th District to be given a Merit Award, which includes a letter of recommendation from Denham that Brantley can include as part of her college applications.
"I had no idea I had been nominated," said Brantley. "I got a letter in the mail and then they called me into the office to make sure I had received it and to congratulate me."
Nominating Brantley was an easy choice for Denair Principal Kara Backman.
"She is an academic scholar and has great grades," Backman praised. "She's a leader. She's a self-starter. She holds herself and others to high standards. She's just one of those students that others look up to."
According to Denham's website, awards are based on academic achievement, leadership, involvement in extracurricular activities, school citizenship, volunteerism and community service.
"These students' demonstration of leadership, scholastic excellence, and commitment to our community is inspiring," Denham said. "It is an honor to present this group of young leaders with the Congressional Merit Award and I look forward to seeing their great accomplishments in the future."
Continue Reading Rep. Jeff Denham Honors Denair High Senior Alexis Brantley →
---
Underdog Denair Strikes Again, Hands Delhi First Loss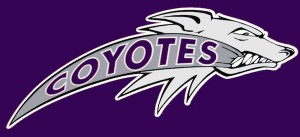 Those who underestimate the Denair football team do so at their own peril, as formerly unbeaten Delhi found out the hard way Friday night.
Fueled by a raucous homecoming crowd, the hard running of Justin Steeley and a defense flying all over the field at Jack Lytton Stadium, Denair played arguably its best game of the season. The Coyotes posted their third shutout in four games, winning 14-0 and positioning themselves for what once seemed like an improbable playoff spot with two games remaining.
Despite suiting up just 15 players, Denair dominated the Hawks, forcing seven turnovers on defense and doing just enough on offense with a backup quarterback to make Steeley's two touchdown runs hold up.
As a result, Denair (5-3 overall, 3-2 in the Southern League) is poised to compete for one of the league's berths in the Division VI playoffs. Victories this week at Mariposa (2-3) and at home in the season finale against Waterford (1-4) almost certainly would assure the Coyotes of a playoff game.
"We're not going to shy away from it," said Denair coach Anthony Armas when asked about the postseason. "That's been the goal from the get go. We're really focused on the next two games. …. I have a feeling if we get 7-3, we'd been in, but I don't know how the CIF does it."
Orestimba, which is a Division V school based on its enrollment, leads the Southern League at 5-0. It plays at Delhi (4-1) this week, then finishes against longtime rival Gustine (4-1). Delhi has Orestimba, then plays at Ripon Christian (1-4).
Depending upon who beats who, Denair could finish anywhere from tied for first place to fifth. What Armas does know is the Coyotes control their own destiny.
If they play as well against Mariposa and Waterford as they did against Delhi, the playoffs will be a fitting reward.
"Our defense was lights out," Armas praised. "It was a really good team effort."
Continue reading "Underdog Denair Strikes Again, Hands Delhi First Loss" »
---
Denair Trustees Approve 4% Pay Increases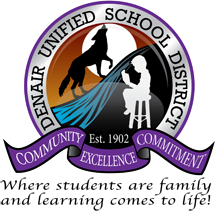 Trustees in the Denair Unified School District enthusiastically approved across-the-board 4% pay increases Thursday night, yet another sign the district's financial recovery plan is paying dividends.
The raises are retroactive to July 1 and will be reflected in employees' November paychecks. They add $534,113 to the cost of pay and benefits this budget year. It is money well spent, trustees say.
"If it's there, we want to give it back," said Trustee Robert Hodges of the money for the pay increases. The additional funds are the result of unexpectedly strong enrollment growth this year.
Denair was forced to slash salaries and staffing in 2013 when it faced a fiscal crisis due to declining enrollment and reduced state payments. Salaries for classified staff shrunk by 12%; pay for teachers and administrators was cut 8%. Some employees were laid off. The Stanislaus County Office of Education stepped in to provide temporary financial oversight.
Thursday's move comes a month after trustees granted one-time payments of 2.37% of the salaries of all teachers who were on staff in 2015-16. Classified staff received identical bonuses earlier this year. In addition, all employees received 1% raises in the spring.
"The hope is the restoration will be ongoing," said board President Sandi Dirkse.
Teachers in Denair can earn to $79,119 in addition to stipends for coaching or having a master's degree. Principals can make up to $96,915, depending upon experience. Classified managers can earn up to $76,138 while non-salaried employees are paid up to $23.99 per hour.
Trustees voted 4-0 for the salary increases, with Kathi Dunham-Filson absent, after an optimistic budget report from Chief Business Officer Linda Covello that projects the district will be on sound fiscal footing for at least the next three years.
"It's the strongest financial position Denair Unified has been in in many years," said Superintendent Aaron Rosander. Continue reading "Denair Trustees Approve 4% Pay Increases" »
---
Eight Denair High Students Recognized for Bilingual Skills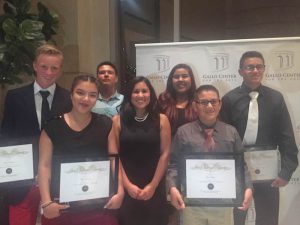 Eight students at Denair High School have earned prestigious recognition for their bilingual speaking and writing abilities.
Senior Cesar Flores; juniors Yareli Coria, Alondra Montanez and Jesus Perez; sophomores Angela Verduzco and Reyna Villa; and freshmen Brigg Wenstrand and Jesus Flores were awarded the coveted Seal of Multilingual Proficiency in a ceremony Nov. 2 at the Gallo Center for the Arts in Modesto. The designation will be specially noted on their high school diplomas, certifying that they are fluent in English as well as Spanish.
This important recognition helps graduates when they apply to colleges, compete for scholarships or submit job applications.
"This is a verification of their skills," said Maria Olivas, a former Spanish teacher and coordinator of the English Language Development programs in the Denair district. She also serves on the language committee run by the Stanislaus County Office of Education.
This year, about 1,100 students from 15 Stanislaus County high schools applied for the Seal of Multilingual Proficiency. Of that group, 303 were certified as meeting the bilingual standards, according to the County Office of Education. Twenty-three different languages were represented.
Continue Reading Eight Denair High Students Recognized for Bilingual Skills →
---
Magical Regular Season Ends With Unexpected Loss, But Denair Still Rewarded With Football Playoff Berth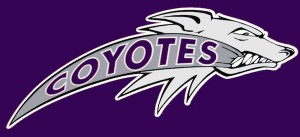 So much has gone right this year for the Denair High football team that a victory Friday over Waterford – on Senior Night, in the final regular-season game of the year, with a playoff berth likely riding on the outcome – seemed preordained.
The scrappy Coyotes have been the feel-good story of the fall, winning games despite a 15-man roster and earning regional and media attention in the process. Surely the Hollywood script writers knew the proper ending.
Uh, apparently not.
Waterford's 20-12 victory not only threw cold water over a rabid fan base primed to let loose with a raucous celebration at Jack Lytton Stadium, it threatened to be the final act of an otherwise magical season. A playoff spot that seemed so certain suddenly was at risk.
"I think everybody was disappointed because we felt we had to win to get in," said Coach Anthony Armas on Sunday. "We had a really good crowd. A lot of alumni showed up."
He said the players and coaches all realized what a loss might mean. "We felt very bad. … It all kind of hit home after the game."
Still, as had already been planned, the entire Denair team and coaching staff gathered Saturday afternoon in Athletic Director Darrin Allen's classroom to watch a live feed of the playoff announcements. They had to wait more than an hour before the Division VI pairings were revealed.
And then they heard their names called right away.
Continue Reading Magical Regular Season Ends With Unexpected Loss, But Denair Still Rewarded With Football Playoff Berth →
---
Diplomas Available
Students who completed grade twelve from the 2003-2004 to 2014-2015 school years at Denair Unified School District, and have met all graduation requirements other than passing the CAHSEE, are eligible to receive a diploma. Students are asked to visit their former high school office to request their diploma. Should a former student be unable to pick up the diploma, someone else may do so on the student's behalf with written authorization. Diplomas will be released only after valid photo identification has been provided.
For further questions please call the high school offices Denair High School - 209–632-9911
Denair Charter Academy - 209-634-0917
---