Decades from now, after the legend of this year's Denair High football team has been passed down from one generation to the next, the people who know the story best – the players and their coaches – no doubt will remember this: this special season was possible because each of them believed in the other without reservation. It was a team without apparent ego, everyone willing to sacrifice a little of himself for the greater good.

Saturday night, with purple-clad parents and students and proud alums, gathered to watch on a chilly night at Jack Lytton Stadium, Denair capped a dream season with a dominating 42-14 victory over Santee of Los Angeles for the California Division VII title.

The Denair Coyotes are state champions.

Sunday morning – after maybe four hours of sleep – it still hadn't quite sunk in for Coach Anthony Armas.

"It's pretty awesome," he said. "We always hoped for the best, but I don't think realistically we ever thought this could happen."

The title game against the best team from Southern California followed a familiar script: the Coyotes jumped out to an early lead, used their stable of multi-talented running backs to keep Santee's defense on its heels and its offense off the field, and made enough big plays of their own on defense to ground the Falcons.

Continue reading at DenairPulse.com

Share this: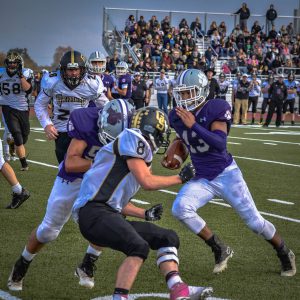 The charmed season of the 2018 Denair High football team becomes more magical each week.
The Coyotes barely had time to process Saturday's 43-21 victory over Golden Sierra for the school's first-ever Sac-Joaquin Section Division VII football championship before they found out Sunday that they were selected to play for a state title this week.
Better yet? Denair gets to play before its adoring home crowd on the familiar turf at Jack Lytton Stadium. The opponent – Los Angeles City champion Santee – faces a six-hour bus ride. Kickoff will be at 6 p.m. Saturday.
Denair Coach Anthony Armas was getting ready to go to school Sunday to meet with Athletic Director Darrin Allen when he learned the Coyotes had earned a spot in the title game. Who told him? His mother, of all people.
"The CIF posted it on Max Preps. She saw it there and texted me," Armas said.
Families all around Denair – still basking in the glow of Saturday's Section championship — had more reason to celebrate.
Continue reading at DenairPulse.com
Share this:
High school and middle school students in the Denair Unified School District have a new ally in their efforts to prepare for, apply at and help pay for college.
It's called the California College Guidance Initiative. It is the state's official college and career planning platform, which is free to all California educators, students and families.
Thursday, Denair trustees unanimously decided to make the district one of the first in Stanislaus County to enroll in the program.
CCGI is a nonprofit — funded in part by the state of California — that partners with school districts across the state to advance local college and career readiness goals. CCGI wants all high school seniors in California to graduate with clear postsecondary goals and a plan for how to achieve them.
Its website is packed full of useful tools that allows students, their parents and school advisers to access all kinds of college-related information and requirements, upload transcripts and college-prep test scores, search for universities and application forms, take career profile surveys, and learn more about financial aid.
Each student – beginning as early as sixth grade — creates a profile that includes his or her coursework, academic accomplishments and even extracurricular activities. Students who aspire to attend a University of California, California State University or even a community college can see exactly what it will take to potentially be accepted.
If a family moves or a student changes schools, the profile follows him or her anywhere in California.
"One of the things I like as a parent and a principal is there is a parent portal," said Denair High Principal Kara Backman. "It's the same information for students, parents, teachers and administrators."
Continue reading at DenairPulse.com
Share this:
---
More about Denair
| | |
| --- | --- |
| Mr. Stavrianoudakis | Initiatives |
| | |
| Ag Spotlight | Community Spotlight |
| | |
| Robyn Hilton | Building Relationships |
| | |
| Community Commitment | Clubs & Athletics |
| | |
---
Air Quality Alert
---
The California Department of Education (CDE) is currently engaged in litigation with two non-profit associations comprised of parents and guardians of children with disabilities. The plaintiffs in that litigation have requested numerous documents, as well as student data collected and stored by CDE, which may include personally identifiable student information.
To comply with the Family Educational Rights and Privacy Act (FERPA), CDE has been ordered, among other things, to inform parents and students of the disclosure of such information. CDE has requested that school districts and SELPAs post the following link to CDE's website: http://www.cde.ca.gov/morganhillcase. The link provides a Notice and Objection Form to allow parents to object, by April 1, 2016, to the disclosure of personally identifiable information related to their children.
Please understand that the district is not a party to the litigation and is not required to disclose any student information, nor does it intend to do so. For more information, please contact CDE directly at (916) 319-0800.
District Office Hours
Mon-Fri
7:30am - 4:30pm
Mailing & Physical address
3460 Lester Road
Denair, CA 95316
Phone:
(209) 632-7514
Fax: (209) 632-9194
---
Superintendent
Dr. Terry Metzger
---
DUSD MISSION STATEMENT
Denair Unified School District empowers tomorrow's leaders through exemplary instruction and powerful innovative programs. Our exceptional school environments are the best educational choice for all students.
---